Up until recently I haven't really acknowledged a need for a keyboard on the wave of mobile platforms and devices with touchscreens. With the future of Blackberry still worrying many corporate IT staff, the idea of adding a keyboard to an existing touchscreen mobile device could be very appealing and perhaps the best of both worlds.  Several Android manufactures, such as Samsung and Motorola, already have models with keyboards. But Apple appears to have no plans to move to this area. Luckily the case market can perhaps fill this void.
An early entry in this accessory field is SoloMatrix and their Spike keyboard accessories.They completed funding on Kickstarter back in August 2012.
I funded them, but still awaiting to see the device due to some production changes and the new iPhone 5 that was released that changed form factor. Their design is to use a flip-keyboard and you can have above the onscreen keyboard or hidden behind the device. An early hands-on preview was posted here: http://www.ubergizmo.com/2012/07/hands-on-preview-solomatrix-spike-physical-keyboard-iphone/
Bascially SoloMatrix has created a programmable capacitive contact surface that can change when you change your virtual on screen keyboard changes.
On Kickstarter the Spike had a low cost entry point. Estimated retail pricing may be around USD $60.
Another similar solution now is coming from a company called Typo. Their solution is slightly different and creates a device more like the recent Blackberry Q10 with the keyboard at the bottom of the device. But thus on an iPhone making it longer in length.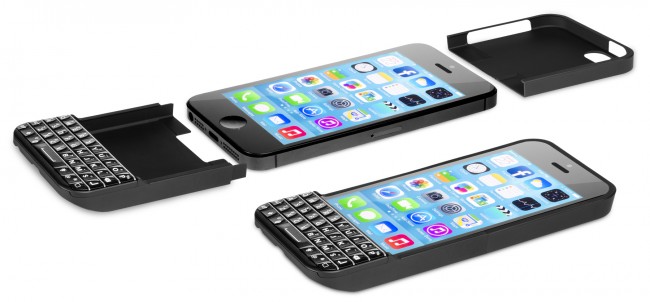 This keyboard is really a paired Bluetooth 3.0 accessory and has it's own small battery which needs to be charged. It also has a backlighted keypad. An interesting fact, is that celebrity Ryan Seacrest invested USD $1M in the company due to his own needs and desires to have a keyboard on the iPhone.
Typo is taking pre-orders for USD $99 and probably will launch itself at CES 2014 in January.